Discussion
Biggest prospect flops of 2011
Ten young players who need a strong 2012 season after being subpar in 2011
Updated:
December 28, 2011, 10:50 AM ET
By
Kevin Goldstein
| Baseball Prospectus
It was a very good year, it was a very bad year.
That's how any prospect follower can feel when reviewing where a prospect stood in the industry.
Here are 10 players who might like to forget what happened in 2011 and hope that a change of the calendar can help them turn it around in 2012.
---

The last time we saw the good version of Brown was mid-2010. Since then, he was called up to the big leagues but given inconsistent playing time, had a horrible spring training while trying to adjust his swing and didn't play especially well at any level in 2011.
"I think it will happen for him, but I don't think it will happen in Philly," said a rival National League executive. "I bet he's gone by midseason in their next big trade."
To read about more prospects who need a rebound year in 2012 the most, sign up for ESPN Insider.
Insider
Offseason Buyer's Guide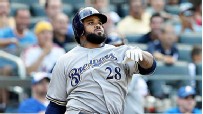 Prince Fielder headlines the 2011 free agent class, but who are the other players who could be changing teams this winter?
Rankings
Nov. 3:
Law: Top 50 free agents
|
Tracker
Nov. 4:
Bowden: Projected value rankings
Reaction
Jan. 25:
Bowden: How Detroit landed Prince
Jan. 24:
Law: Fielder helps now, not later
Jan. 14:
Bowden: Grading Yankees-M's deal
Jan. 13:
Law: Pineda-Montero deal a win-win
Jan. 11:
Law: Madson a steal for Reds
Jan. 6:
Law: Cubs win Cashner-Rizzo deal
Dec. 31:
Law: Quentin a mediocre fit in S.D
Buyer's Guide
Nov. 12:
Buyers Guide: Catchers
Nov. 11:
Buyers Guide: Relief Pitchers
Nov. 10:
Buyers Guide: Starting Pitchers
Nov. 9:
Buyers Guide: Third basemen
Nov. 8:
Buyers Guide: Outfielders
Nov. 7:
Buyers Guide: Middle infielders
Nov. 4:
Buyers Guide: First basemen/DH
Features
Feb. 9:
Perry: A case for the Nats
Feb. 7:
Szymborski: Ellsbury to fall off
Feb. 6:
Cameron: The cost of moving to third
Feb. 3:
Meyers: Poor drafts doom Cubs, Mets
Feb. 2:
Bowden: How to rebuild the Orioles
Feb. 1:
Goldstein: How good is Cespedes?
Jan. 30:
Szymborski: Projecting Angels, Tigers
History
•
Law: 2010 top 50 rankings
•
Law: 2009 top 50 rankings
•
Law: 2008 top 50 rankings
•
Law: 2007 top 50 rankings
•
Law: 2006 top 40 rankings