Discussion
A possible step back
Playoff contenders must be wary of slippage from key players
Originally Published:
December 30, 2011
By
Dave Cameron
| FanGraphs
With their two big splashy free-agent signings this winter, the Los Angeles Angels have become a trendy pick to win in the American League West. Certainly, adding Albert Pujols and C.J. Wilson to a roster that won 86 games last year seems like a formula for a playoff berth, but the Angels are one of the contending teams that need to plan on at least one key player from 2011 taking a pretty big step backward during the upcoming season.
In Anaheim's case, its regression candidate is second baseman Howie Kendrick. On the surface, Kendrick's numbers from last season don't seem out of line with his career numbers. His .285 average was below his career mark. He set his career high in home runs with 18, after hitting just 10 homers in each of the previous two seasons. That jump doesn't appear too far out of line for a player coming into his prime.

Kendrick
However, Kendrick didn't just have a career year at the plate in 2011. He also had one in the field, and that's where the Angels can expect a pretty substantial step backward. From 2006 to 2010, Kendrick played just over 3,800 innings at second base and posted an Ultimate Zone Rating ( UZR) of plus-8.6, or an average of plus-3 runs per full season. In just over 900 innings at the position last year, Kendrick posted a UZR of plus-14.4 runs, or a total of nearly plus-20 runs over the course of an entire year -- a mark that ranked him as baseball's top defensive second baseman in 2011.
To see why the Angels, Phillies and Diamondbacks must plan for key players to slip, become an ESPN Insider.
Insider
Offseason Buyer's Guide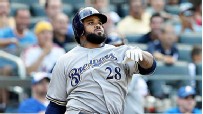 Prince Fielder headlines the 2011 free agent class, but who are the other players who could be changing teams this winter?
Rankings
Nov. 3:
Law: Top 50 free agents
|
Tracker
Nov. 4:
Bowden: Projected value rankings
Reaction
Jan. 25:
Bowden: How Detroit landed Prince
Jan. 24:
Law: Fielder helps now, not later
Jan. 14:
Bowden: Grading Yankees-M's deal
Jan. 13:
Law: Pineda-Montero deal a win-win
Jan. 11:
Law: Madson a steal for Reds
Jan. 6:
Law: Cubs win Cashner-Rizzo deal
Dec. 31:
Law: Quentin a mediocre fit in S.D
Buyer's Guide
Nov. 12:
Buyers Guide: Catchers
Nov. 11:
Buyers Guide: Relief Pitchers
Nov. 10:
Buyers Guide: Starting Pitchers
Nov. 9:
Buyers Guide: Third basemen
Nov. 8:
Buyers Guide: Outfielders
Nov. 7:
Buyers Guide: Middle infielders
Nov. 4:
Buyers Guide: First basemen/DH
Features
Feb. 9:
Perry: A case for the Nats
Feb. 7:
Szymborski: Ellsbury to fall off
Feb. 6:
Cameron: The cost of moving to third
Feb. 3:
Meyers: Poor drafts doom Cubs, Mets
Feb. 2:
Bowden: How to rebuild the Orioles
Feb. 1:
Goldstein: How good is Cespedes?
Jan. 30:
Szymborski: Projecting Angels, Tigers
History
•
Law: 2010 top 50 rankings
•
Law: 2009 top 50 rankings
•
Law: 2008 top 50 rankings
•
Law: 2007 top 50 rankings
•
Law: 2006 top 40 rankings