Discussion
Remaining needs for all 30 teams
What each team still must accomplish before pitchers and catchers report
Updated:
January 3, 2012, 1:39 PM ET
By
Dan Szymborski
| Baseball Think Factory
Baseball's winter meetings are now a month gone and most of the remaining big free agents have signed. But with more than 100 major league free agents remaining (and even more minor league free agents), the Hot Stove season has a lot of action remaining.
With only a handful of true stars available for teams this winter on the market, most teams still have a lot of work ahead of them -- not everybody can sign Albert Pujols and C.J. Wilson and call it a winter.
So which teams have the most things on their to-do list? Every team will do at least something in the seven weeks until spring training starts, but some clearly have a ways to go in preparing for the 2012 season. Here's a rundown of what all 30 teams could still use before pitchers and catchers report, ranked by teams that figure to be most active to least:
---

The Nationals have shown a willingness to spend big money this offseason and have been in the conversation for every star free agent, but they were unable to land any of them. Prince Fielder is still out there, and Washington is the likely favorite for him with Michael Morse shifting back to the outfield.
Gio Gonzalez may not be a true ace, but he fills a big hole in the rotation. If the Nats can add Fielder, then they become a serious wild-card contender along with the other upstart in the division, the Miami Marlins. Any big moves remaining will likely have to be done with cash, as Bryce Harper remains untouchable and Washington unloaded half of its top prospects to bring in Gonzalez.
---

To read about the remaining needs of all 30 teams, plus our full slate of daily MLB coverage, sign up for ESPN Insider.
Insider
Offseason Buyer's Guide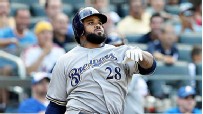 Prince Fielder headlines the 2011 free agent class, but who are the other players who could be changing teams this winter?
Rankings
Nov. 3:
Law: Top 50 free agents
|
Tracker
Nov. 4:
Bowden: Projected value rankings
Reaction
Jan. 25:
Bowden: How Detroit landed Prince
Jan. 24:
Law: Fielder helps now, not later
Jan. 14:
Bowden: Grading Yankees-M's deal
Jan. 13:
Law: Pineda-Montero deal a win-win
Jan. 11:
Law: Madson a steal for Reds
Jan. 6:
Law: Cubs win Cashner-Rizzo deal
Dec. 31:
Law: Quentin a mediocre fit in S.D
Buyer's Guide
Nov. 12:
Buyers Guide: Catchers
Nov. 11:
Buyers Guide: Relief Pitchers
Nov. 10:
Buyers Guide: Starting Pitchers
Nov. 9:
Buyers Guide: Third basemen
Nov. 8:
Buyers Guide: Outfielders
Nov. 7:
Buyers Guide: Middle infielders
Nov. 4:
Buyers Guide: First basemen/DH
Features
Feb. 9:
Perry: A case for the Nats
Feb. 7:
Szymborski: Ellsbury to fall off
Feb. 6:
Cameron: The cost of moving to third
Feb. 3:
Meyers: Poor drafts doom Cubs, Mets
Feb. 2:
Bowden: How to rebuild the Orioles
Feb. 1:
Goldstein: How good is Cespedes?
Jan. 30:
Szymborski: Projecting Angels, Tigers
History
•
Law: 2010 top 50 rankings
•
Law: 2009 top 50 rankings
•
Law: 2008 top 50 rankings
•
Law: 2007 top 50 rankings
•
Law: 2006 top 40 rankings