Discussion
Brewers' future without Fielder
With Ryan Braun facing suspension, losing Prince would leave Milwaukee in limbo
Updated:
January 5, 2012, 12:22 PM ET
By
Dayn Perry
| ESPN Insider
The Milwaukee Brewers find themselves in odd straits. On one hand, they're coming off a season in which they barged to 96 wins and a division title. Their chief rivals, the St. Louis Cardinals, lost their franchise player. On the other hand, however, the Brewers are poised to lose Prince Fielder to free agency, and reigning National League MVP Ryan Braun may be facing a 50-game suspension.
So what to make of this diminished team in this diminished division?
In 2011, the Brewers notched an offensive WAR of 32.9 and a pitching WAR of 18.1. Add that to the replacement-level estimate of 43 WAR, and you get 93 wins for the Brewers last season, which, of course, is close to their actual total. Still, their starting baseline is a bit lower than their 96-66 record would suggest.
The most obvious consideration is the pending loss of Fielder. Fielder, who's been linked in recent days to the Washington Nationals, Toronto Blue Jays, Chicago Cubs and Seattle Mariners, figures to be a five- to seven-win player in each of the next few seasons, so his absence will be damaging. Mat Gamel will likely take over for Fielder next season, and Gamel's recent strong showing at Triple-A suggests he can at least tread water. Still, a loss of about four wins seems likely.
To read the full story about where the Brewers go without Fielder, in addition to ESPN Insider's complete MLB coverage, sign up today.
Insider
Offseason Buyer's Guide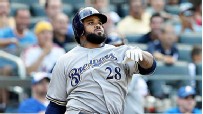 Prince Fielder headlines the 2011 free agent class, but who are the other players who could be changing teams this winter?
Rankings
Nov. 3:
Law: Top 50 free agents
|
Tracker
Nov. 4:
Bowden: Projected value rankings
Reaction
Jan. 25:
Bowden: How Detroit landed Prince
Jan. 24:
Law: Fielder helps now, not later
Jan. 14:
Bowden: Grading Yankees-M's deal
Jan. 13:
Law: Pineda-Montero deal a win-win
Jan. 11:
Law: Madson a steal for Reds
Jan. 6:
Law: Cubs win Cashner-Rizzo deal
Dec. 31:
Law: Quentin a mediocre fit in S.D
Buyer's Guide
Nov. 12:
Buyers Guide: Catchers
Nov. 11:
Buyers Guide: Relief Pitchers
Nov. 10:
Buyers Guide: Starting Pitchers
Nov. 9:
Buyers Guide: Third basemen
Nov. 8:
Buyers Guide: Outfielders
Nov. 7:
Buyers Guide: Middle infielders
Nov. 4:
Buyers Guide: First basemen/DH
Features
Feb. 9:
Perry: A case for the Nats
Feb. 7:
Szymborski: Ellsbury to fall off
Feb. 6:
Cameron: The cost of moving to third
Feb. 3:
Meyers: Poor drafts doom Cubs, Mets
Feb. 2:
Bowden: How to rebuild the Orioles
Feb. 1:
Goldstein: How good is Cespedes?
Jan. 30:
Szymborski: Projecting Angels, Tigers
History
•
Law: 2010 top 50 rankings
•
Law: 2009 top 50 rankings
•
Law: 2008 top 50 rankings
•
Law: 2007 top 50 rankings
•
Law: 2006 top 40 rankings