Discussion
Dodgers next owners need patience
Those lining up to buy the franchise had better know the team is a few years away
Updated:
January 9, 2012, 3:32 PM ET
By
Dave Cameron
| FanGraphs
With prospective owners lining up around the block to bid for the Los Angeles Dodgers, we thought it'd be helpful to shine a light on just what kind of team they'd be buying. While the franchise's history and large fan base offer value on their own, the team will be more profitable if the new owners can turn them into winners in a hurry. So, how far away are the Dodgers from being contenders?
Let's start with the good news. The team has two franchise building blocks in Matt Kemp and Clayton Kershaw, young stars who are already performing at an elite level. There aren't many teams in baseball that have two young players of this quality, and they are certainly capable of forming the foundation of a championship team.
The bad news is that those two performed about as well as anyone can realistically be asked to in 2011 and the team still won just 82 games, finishing in third place in the NL West. If the team is going to contend, it will have to get better performances from the supporting cast because they can't realistically expect to get much more from Kershaw and Kemp than they got a year ago.
In looking at the rest of the roster, it gets a little bit tougher to find long-term value once you get past the big two. Chad Billingsley has a good arm and has pitched well at times, and he's signed to a pretty reasonable contract that will keep him in LA through at least 2014. Kenley Jansen looks like he could develop into one of the best relief pitchers in baseball. Dee Gordon held his own as a 23-year-old rookie and could provide value at shortstop, especially while he's cheap.
However, when your list of long-term assets on the roster are a starting pitcher coming off his worst season, a reliever with command problems and a 150-pound infielder who might not ever hit a home run in the big leagues, you know your roster might have some issues. And there's no question that whoever buys the Dodgers is going to have some work to do to turn the team into a perennial winner.
To see why the Dodgers are a few years from contending, become an ESPN Insider.
Insider
Offseason Buyer's Guide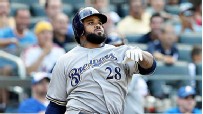 Prince Fielder headlines the 2011 free agent class, but who are the other players who could be changing teams this winter?
Rankings
Nov. 3:
Law: Top 50 free agents
|
Tracker
Nov. 4:
Bowden: Projected value rankings
Reaction
Jan. 25:
Bowden: How Detroit landed Prince
Jan. 24:
Law: Fielder helps now, not later
Jan. 14:
Bowden: Grading Yankees-M's deal
Jan. 13:
Law: Pineda-Montero deal a win-win
Jan. 11:
Law: Madson a steal for Reds
Jan. 6:
Law: Cubs win Cashner-Rizzo deal
Dec. 31:
Law: Quentin a mediocre fit in S.D
Buyer's Guide
Nov. 12:
Buyers Guide: Catchers
Nov. 11:
Buyers Guide: Relief Pitchers
Nov. 10:
Buyers Guide: Starting Pitchers
Nov. 9:
Buyers Guide: Third basemen
Nov. 8:
Buyers Guide: Outfielders
Nov. 7:
Buyers Guide: Middle infielders
Nov. 4:
Buyers Guide: First basemen/DH
Features
Feb. 9:
Perry: A case for the Nats
Feb. 7:
Szymborski: Ellsbury to fall off
Feb. 6:
Cameron: The cost of moving to third
Feb. 3:
Meyers: Poor drafts doom Cubs, Mets
Feb. 2:
Bowden: How to rebuild the Orioles
Feb. 1:
Goldstein: How good is Cespedes?
Jan. 30:
Szymborski: Projecting Angels, Tigers
History
•
Law: 2010 top 50 rankings
•
Law: 2009 top 50 rankings
•
Law: 2008 top 50 rankings
•
Law: 2007 top 50 rankings
•
Law: 2006 top 40 rankings