Discussion
Fielder's impact on the NL East
If Prince Fielder is a Nat, the NL East could suddenly be baseball's top division
Updated:
January 10, 2012, 2:14 PM ET
By
Dan Szymborski
| Baseball Think Factory
Looking at the offseason so far, one of the more overlooked storylines is just how quiet the New York Yankees and Boston Red Sox have been in the free-agent market. Together, the two biggest spenders in baseball have spent a little more than $8 million on free agents. Last year, that number was $292 million; it was $140 million after the 2009 season and $460 million after 2008.
The rest of the division has been similarly thrifty when going after free agents. The two biggest contracts given out by the Baltimore Orioles were to overseas imports Tsuyoshi Wada and Chen Wei-Yin for a combined $20 million.
In recent years, the AL East has generally been considered the toughest division in baseball. And for good reason -- with the ascendancy of the Tampa Bay Rays in recent years, the division's had three of the best teams in baseball for a while now.
This winter, the headlines have been made by other teams. In the NL East, the Miami Marlins and Washington Nationals, two of the teams with the skimpiest payrolls the past decade (the Marlins notoriously so), have aggressively gone after talent this offseason. Miami struck first, bringing in Jose Reyes, Heath Bell and Mark Buehrle, and picking up Carlos Zambrano, turning the Marlins into a serious playoff contender. The Nats haven't had the same success in the market but acquired Gio Gonzalez, and a healthy Stephen Strasburg is just as good as bringing in a veteran star.
One last big prize remains in the market in Prince Fielder, and the Nationals are now considered the favorite. While there are legitimate concerns about how Fielder will age down the road, the 2012 version should be a major star. And if he ends up in our nation's capital, the AL East's claim as baseball's best division will no longer be so clear-cut.
To read how Prince Fielder could make the NL East the most compelling division in 2012, plus ESPN Insider's complete MLB coverage, sign up today.
Insider
Offseason Buyer's Guide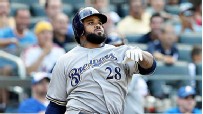 Prince Fielder headlines the 2011 free agent class, but who are the other players who could be changing teams this winter?
Rankings
Nov. 3:
Law: Top 50 free agents
|
Tracker
Nov. 4:
Bowden: Projected value rankings
Reaction
Jan. 25:
Bowden: How Detroit landed Prince
Jan. 24:
Law: Fielder helps now, not later
Jan. 14:
Bowden: Grading Yankees-M's deal
Jan. 13:
Law: Pineda-Montero deal a win-win
Jan. 11:
Law: Madson a steal for Reds
Jan. 6:
Law: Cubs win Cashner-Rizzo deal
Dec. 31:
Law: Quentin a mediocre fit in S.D
Buyer's Guide
Nov. 12:
Buyers Guide: Catchers
Nov. 11:
Buyers Guide: Relief Pitchers
Nov. 10:
Buyers Guide: Starting Pitchers
Nov. 9:
Buyers Guide: Third basemen
Nov. 8:
Buyers Guide: Outfielders
Nov. 7:
Buyers Guide: Middle infielders
Nov. 4:
Buyers Guide: First basemen/DH
Features
Feb. 9:
Perry: A case for the Nats
Feb. 7:
Szymborski: Ellsbury to fall off
Feb. 6:
Cameron: The cost of moving to third
Feb. 3:
Meyers: Poor drafts doom Cubs, Mets
Feb. 2:
Bowden: How to rebuild the Orioles
Feb. 1:
Goldstein: How good is Cespedes?
Jan. 30:
Szymborski: Projecting Angels, Tigers
History
•
Law: 2010 top 50 rankings
•
Law: 2009 top 50 rankings
•
Law: 2008 top 50 rankings
•
Law: 2007 top 50 rankings
•
Law: 2006 top 40 rankings