Discussion
Texas might be better off without Yu
The Texas Rangers have other options if they are not able to sign Darvish
Originally Published:
January 13, 2012
By
Matt Meyers
| ESPN Insider
At some point between now and 5 p.m. ET next Wednesday, it will be known if Yu Darvish and the Texas Rangers have come to terms on a contract. And if the Rangers -- who have an exclusive negotiating window -- fail to come to terms on a deal, Darvish will return to the Nippon-Ham Fighters, and Texas doesn't have to pay a posting fee.
Rangers CEO Nolan Ryan said Thursday he is optimistic the team will come to an agreement with Darvish.
After all the hype surrounding the posting process, it would seem the failure to sign Darvish would be a disaster for the Rangers. However, because of the way the rest of the free agent market is set up, Texas might be better off if they don't make a deal with the talented right-hander.
To read the full story about why the Texas Rangers might be better off if the don't sign Japanese free agent Yu Darvish, become an ESPN Insider.
Insider
Offseason Buyer's Guide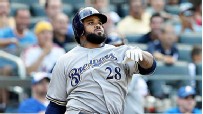 Prince Fielder headlines the 2011 free agent class, but who are the other players who could be changing teams this winter?
Rankings
Nov. 3:
Law: Top 50 free agents
|
Tracker
Nov. 4:
Bowden: Projected value rankings
Reaction
Jan. 25:
Bowden: How Detroit landed Prince
Jan. 24:
Law: Fielder helps now, not later
Jan. 14:
Bowden: Grading Yankees-M's deal
Jan. 13:
Law: Pineda-Montero deal a win-win
Jan. 11:
Law: Madson a steal for Reds
Jan. 6:
Law: Cubs win Cashner-Rizzo deal
Dec. 31:
Law: Quentin a mediocre fit in S.D
Buyer's Guide
Nov. 12:
Buyers Guide: Catchers
Nov. 11:
Buyers Guide: Relief Pitchers
Nov. 10:
Buyers Guide: Starting Pitchers
Nov. 9:
Buyers Guide: Third basemen
Nov. 8:
Buyers Guide: Outfielders
Nov. 7:
Buyers Guide: Middle infielders
Nov. 4:
Buyers Guide: First basemen/DH
Features
Feb. 9:
Perry: A case for the Nats
Feb. 7:
Szymborski: Ellsbury to fall off
Feb. 6:
Cameron: The cost of moving to third
Feb. 3:
Meyers: Poor drafts doom Cubs, Mets
Feb. 2:
Bowden: How to rebuild the Orioles
Feb. 1:
Goldstein: How good is Cespedes?
Jan. 30:
Szymborski: Projecting Angels, Tigers
History
•
Law: 2010 top 50 rankings
•
Law: 2009 top 50 rankings
•
Law: 2008 top 50 rankings
•
Law: 2007 top 50 rankings
•
Law: 2006 top 40 rankings