Discussion
Rays still have claim as MLB's best
Tampa Bay has been quiet this winter, but there wasn't much work to do
Updated:
January 16, 2012, 2:11 PM ET
By
Dayn Perry
| FanGraphs
The Los Angeles Angels have had the splashiest offseason of any team. The Texas Rangers return an impressive core and may yet add the likes of Yu Darvish and perhaps even Prince Fielder. The New York Yankees, in the span of an hour or two this past Friday, upgraded their rotation by a notable margin. The Philadelphia Phillies return the most vital parts of last year's 102-win outfit. The Boston Red Sox, despite the upheavals of 2011, have a tremendous amount of talent on the roster. Still and yet, the best team in baseball headed into the 2012 season might just be the Tampa Bay Rays.
To see why the Rays might still be the best team in baseball -- plus access to Buster Olney, Keith Law -- become an ESPN Insider.
Insider
Offseason Buyer's Guide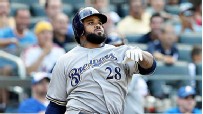 Prince Fielder headlines the 2011 free agent class, but who are the other players who could be changing teams this winter?
Rankings
Nov. 3:
Law: Top 50 free agents
|
Tracker
Nov. 4:
Bowden: Projected value rankings
Reaction
Jan. 25:
Bowden: How Detroit landed Prince
Jan. 24:
Law: Fielder helps now, not later
Jan. 14:
Bowden: Grading Yankees-M's deal
Jan. 13:
Law: Pineda-Montero deal a win-win
Jan. 11:
Law: Madson a steal for Reds
Jan. 6:
Law: Cubs win Cashner-Rizzo deal
Dec. 31:
Law: Quentin a mediocre fit in S.D
Buyer's Guide
Nov. 12:
Buyers Guide: Catchers
Nov. 11:
Buyers Guide: Relief Pitchers
Nov. 10:
Buyers Guide: Starting Pitchers
Nov. 9:
Buyers Guide: Third basemen
Nov. 8:
Buyers Guide: Outfielders
Nov. 7:
Buyers Guide: Middle infielders
Nov. 4:
Buyers Guide: First basemen/DH
Features
Feb. 9:
Perry: A case for the Nats
Feb. 7:
Szymborski: Ellsbury to fall off
Feb. 6:
Cameron: The cost of moving to third
Feb. 3:
Meyers: Poor drafts doom Cubs, Mets
Feb. 2:
Bowden: How to rebuild the Orioles
Feb. 1:
Goldstein: How good is Cespedes?
Jan. 30:
Szymborski: Projecting Angels, Tigers
History
•
Law: 2010 top 50 rankings
•
Law: 2009 top 50 rankings
•
Law: 2008 top 50 rankings
•
Law: 2007 top 50 rankings
•
Law: 2006 top 40 rankings