Discussion
Reds must ante up in NL Central
To be the true division favorite, Cincy must spend on one more pitcher
Updated:
January 18, 2012, 1:57 PM ET
By
Dan Szymborski
| Baseball Think Factory
For the Cincinnati Reds, 2011 was a season of unrealized expectations. After winning the division in 2010 with a 91-71 record and practically every significant contributor to the team's first divisional title since 1995 returning, there was very good justification to expect the Reds to be in the thick of the race last year. The season started promisingly as the team won its first five games and built up a 2½-game lead two weeks in, but this proved to be the high-water mark of the year. Spending a good chunk of the summer fighting with the Pittsburgh Pirates to stay out of fourth place was not the year most had in mind.
After finishing 79-83, 17 games behind the first-place Milwaukee Brewers, the Reds had an important decision to make: Push for the division in 2012 or rebuild and try to make the team stronger in the middle-term rather than focusing entirely on the upcoming season. A team finishing around .500 can create a lot of tough decisions for management, as simply staying put and hoping for the best is generally a pretty lousy proposition. For much of the offseason, that's pretty much what it looked like the Reds had decided to do.
A week before Christmas, that changed. General manager Walt Jocketty pulled off a surprising trade, acquiring young hurler Mat Latos from the San Diego Padres for the erratic Edinson Volquez and a rich package of prospects -- first baseman Yonder Alonso, catcher Yasmani Grandal and reliever Brad Boxberger.
The Reds gave up a lot of value to bring in Latos, but it's hard to get a very good young pitcher without giving up a king's ransom. Latos just turned 24 and is four years away from free agency. The ZiPS projection system pegs Latos at 15-9 with a 3.38 ERA for Cincinnati and a 90 percent chance at being above league average in 2012. Going forth until free agency, ZiPS has Latos at 60-34 with a 3.25 ERA during the next four seasons, making Latos a near-ace who can be a crucial component of any team's long-term core.
However, the loss of the prospects does mean that the Reds are now going down a particular path and need to go, to borrow a poker term, "all-in" on the next couple of seasons.
To read the full story and also gain access to all of our daily MLB coverage and analysis, sign up for ESPN Insider.
Insider
Offseason Buyer's Guide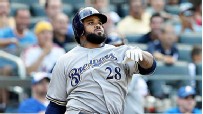 Prince Fielder headlines the 2011 free agent class, but who are the other players who could be changing teams this winter?
Rankings
Nov. 3:
Law: Top 50 free agents
|
Tracker
Nov. 4:
Bowden: Projected value rankings
Reaction
Jan. 25:
Bowden: How Detroit landed Prince
Jan. 24:
Law: Fielder helps now, not later
Jan. 14:
Bowden: Grading Yankees-M's deal
Jan. 13:
Law: Pineda-Montero deal a win-win
Jan. 11:
Law: Madson a steal for Reds
Jan. 6:
Law: Cubs win Cashner-Rizzo deal
Dec. 31:
Law: Quentin a mediocre fit in S.D
Buyer's Guide
Nov. 12:
Buyers Guide: Catchers
Nov. 11:
Buyers Guide: Relief Pitchers
Nov. 10:
Buyers Guide: Starting Pitchers
Nov. 9:
Buyers Guide: Third basemen
Nov. 8:
Buyers Guide: Outfielders
Nov. 7:
Buyers Guide: Middle infielders
Nov. 4:
Buyers Guide: First basemen/DH
Features
Feb. 9:
Perry: A case for the Nats
Feb. 7:
Szymborski: Ellsbury to fall off
Feb. 6:
Cameron: The cost of moving to third
Feb. 3:
Meyers: Poor drafts doom Cubs, Mets
Feb. 2:
Bowden: How to rebuild the Orioles
Feb. 1:
Goldstein: How good is Cespedes?
Jan. 30:
Szymborski: Projecting Angels, Tigers
History
•
Law: 2010 top 50 rankings
•
Law: 2009 top 50 rankings
•
Law: 2008 top 50 rankings
•
Law: 2007 top 50 rankings
•
Law: 2006 top 40 rankings