Discussion
Breakout prospects for 2012
Ten non-first-round picks from 2011 who are ready to emerge
Updated:
January 19, 2012, 12:28 PM ET
By
Kevin Goldstein
| Baseball Prospectus
Interest in baseball's amateur draft has grown by leaps and bounds in the past decade. The event was once an outpost solely for the hard-core, but thanks to great coverage -- including a national television audience -- even many casual fans can name their team's first-round pick from this past June and maybe even a big bonus baby from the later rounds.
Believe it or not, there was a time when the draft was a secret. With MLB fearing the college game would use the draft as a free recruiting tool, lists were once kept shrouded until a player signed. With 1,530 players selected in the 2011, there are still plenty of secrets to be uncovered.
Here are 10 players, not taken in the first round or given a greatly over-slot bonus, who are poised to break out in 2012 and become familiar to fans everywhere.
---

The 121st overall pick and only supplemental third-round pick, Carter converted to pitching at Division II powerhouse Mt. Olive in North Carolina and turned himself into a significant pro prospect.
At 6-foot-6 and 220 pounds, Capps certainly looks the part, and he backs it up with a low-to-mid 90s fastball that he complements with a potentially plus slider. Because he's so new to the craft, he still looks like a catcher who is trying to pitch, but he missed bats in his pro debut (21 strikeouts in 18 innings for low Class A Clinton) and could move quickly if swtiched to a bullpen role.
To read the full prospects report from Kevin Goldstein, plus gain access to ESPN Insider's full MLB coverage, sign up today.
Insider
Offseason Buyer's Guide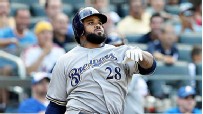 Prince Fielder headlines the 2011 free agent class, but who are the other players who could be changing teams this winter?
Rankings
Nov. 3:
Law: Top 50 free agents
|
Tracker
Nov. 4:
Bowden: Projected value rankings
Reaction
Jan. 25:
Bowden: How Detroit landed Prince
Jan. 24:
Law: Fielder helps now, not later
Jan. 14:
Bowden: Grading Yankees-M's deal
Jan. 13:
Law: Pineda-Montero deal a win-win
Jan. 11:
Law: Madson a steal for Reds
Jan. 6:
Law: Cubs win Cashner-Rizzo deal
Dec. 31:
Law: Quentin a mediocre fit in S.D
Buyer's Guide
Nov. 12:
Buyers Guide: Catchers
Nov. 11:
Buyers Guide: Relief Pitchers
Nov. 10:
Buyers Guide: Starting Pitchers
Nov. 9:
Buyers Guide: Third basemen
Nov. 8:
Buyers Guide: Outfielders
Nov. 7:
Buyers Guide: Middle infielders
Nov. 4:
Buyers Guide: First basemen/DH
Features
Feb. 9:
Perry: A case for the Nats
Feb. 7:
Szymborski: Ellsbury to fall off
Feb. 6:
Cameron: The cost of moving to third
Feb. 3:
Meyers: Poor drafts doom Cubs, Mets
Feb. 2:
Bowden: How to rebuild the Orioles
Feb. 1:
Goldstein: How good is Cespedes?
Jan. 30:
Szymborski: Projecting Angels, Tigers
History
•
Law: 2010 top 50 rankings
•
Law: 2009 top 50 rankings
•
Law: 2008 top 50 rankings
•
Law: 2007 top 50 rankings
•
Law: 2006 top 40 rankings