Discussion
Prospects emerging from winter
Near-big league ready prospects who were helped by a strong offseason showing
Updated:
January 25, 2012, 2:01 PM ET
By
Kevin Goldstein
| Baseball Prospectus
Winter leagues can serve a variety of purposes. Sometimes players are sent there to get extra playing time due to injuries, sometimes players are sent there to be showcased, and sometimes players go on their own to places like Venezuela and the Dominican Republic to earn a little extra cash.
While the small samples and inconsistent competition levels can produce dangerous assumptions, there are still plenty of players who have seen their stock rise during this offseason due to a combination of performance and scouting reports.
Here's a look at 10 of them:
---

In a system desperate for prospects, Aguilar made some noise by slugging 23 home runs across Cleveland's two A-level clubs. But as a 240-plus-pound, bat-only player, scouts need to see him do it at the upper levels before they believe.
That will have to wait until the regular season, but the 21-year-old gave evaluators a two-headed preview of things to come by hitting .339 with three home runs in 16 Arizona Fall League games. Aguilar followed that up with an equally impressive showing in his native country, Venezuela. If he can carry the momentum into the regular season, he'll be on more radars.
To read about more prospects who had strong showings this winter and could have an impact in the big leagues soon, sign up for ESPN Insider.
Insider
Offseason Buyer's Guide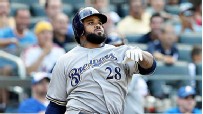 Prince Fielder headlines the 2011 free agent class, but who are the other players who could be changing teams this winter?
Rankings
Nov. 3:
Law: Top 50 free agents
|
Tracker
Nov. 4:
Bowden: Projected value rankings
Reaction
Jan. 25:
Bowden: How Detroit landed Prince
Jan. 24:
Law: Fielder helps now, not later
Jan. 14:
Bowden: Grading Yankees-M's deal
Jan. 13:
Law: Pineda-Montero deal a win-win
Jan. 11:
Law: Madson a steal for Reds
Jan. 6:
Law: Cubs win Cashner-Rizzo deal
Dec. 31:
Law: Quentin a mediocre fit in S.D
Buyer's Guide
Nov. 12:
Buyers Guide: Catchers
Nov. 11:
Buyers Guide: Relief Pitchers
Nov. 10:
Buyers Guide: Starting Pitchers
Nov. 9:
Buyers Guide: Third basemen
Nov. 8:
Buyers Guide: Outfielders
Nov. 7:
Buyers Guide: Middle infielders
Nov. 4:
Buyers Guide: First basemen/DH
Features
Feb. 9:
Perry: A case for the Nats
Feb. 7:
Szymborski: Ellsbury to fall off
Feb. 6:
Cameron: The cost of moving to third
Feb. 3:
Meyers: Poor drafts doom Cubs, Mets
Feb. 2:
Bowden: How to rebuild the Orioles
Feb. 1:
Goldstein: How good is Cespedes?
Jan. 30:
Szymborski: Projecting Angels, Tigers
History
•
Law: 2010 top 50 rankings
•
Law: 2009 top 50 rankings
•
Law: 2008 top 50 rankings
•
Law: 2007 top 50 rankings
•
Law: 2006 top 40 rankings