Discussion
The myth of the steady rise
Rebuilding teams like the Mariners shouldn't assume they can't compete
Updated:
January 27, 2012, 1:02 PM ET
By
Dave Cameron
| FanGraphs
Having lost 95 or more games in three of the last four seasons, the Seattle Mariners have moved into full-scale rebuilding mode. Their big offensive upgrade of the winter was 22-year-old Jesus Montero, and the team is currently penciling in players with less than a full year of experience at second base (Dustin Ackley), third base (Kyle Seager) and left field (Mike Carp), plus wherever Montero ends up playing. General manager Jack Zduriencik is preaching patience, letting the fans know that they should expect to take some lumps this year, but that the fruit of going young will pay off with a steady rise up the standings as the kids mature.
Zduriencik can point to the Texas Rangers, who slowly stockpiled talent for years and saw their win total rise every season from 2007 through 2011. However, a more thorough look at recent history suggests that teams don't usually follow this model of taking a slow, methodical rise from good to bad.
To find out why a steady rebuild is rare, become an ESPN Insider.
Insider
Offseason Buyer's Guide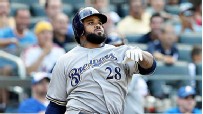 Prince Fielder headlines the 2011 free agent class, but who are the other players who could be changing teams this winter?
Rankings
Nov. 3:
Law: Top 50 free agents
|
Tracker
Nov. 4:
Bowden: Projected value rankings
Reaction
Jan. 25:
Bowden: How Detroit landed Prince
Jan. 24:
Law: Fielder helps now, not later
Jan. 14:
Bowden: Grading Yankees-M's deal
Jan. 13:
Law: Pineda-Montero deal a win-win
Jan. 11:
Law: Madson a steal for Reds
Jan. 6:
Law: Cubs win Cashner-Rizzo deal
Dec. 31:
Law: Quentin a mediocre fit in S.D
Buyer's Guide
Nov. 12:
Buyers Guide: Catchers
Nov. 11:
Buyers Guide: Relief Pitchers
Nov. 10:
Buyers Guide: Starting Pitchers
Nov. 9:
Buyers Guide: Third basemen
Nov. 8:
Buyers Guide: Outfielders
Nov. 7:
Buyers Guide: Middle infielders
Nov. 4:
Buyers Guide: First basemen/DH
Features
Feb. 9:
Perry: A case for the Nats
Feb. 7:
Szymborski: Ellsbury to fall off
Feb. 6:
Cameron: The cost of moving to third
Feb. 3:
Meyers: Poor drafts doom Cubs, Mets
Feb. 2:
Bowden: How to rebuild the Orioles
Feb. 1:
Goldstein: How good is Cespedes?
Jan. 30:
Szymborski: Projecting Angels, Tigers
History
•
Law: 2010 top 50 rankings
•
Law: 2009 top 50 rankings
•
Law: 2008 top 50 rankings
•
Law: 2007 top 50 rankings
•
Law: 2006 top 40 rankings