Discussion
Long-term look at Angels, Tigers
Will Detroit or Anaheim get more out of its big offseason investment?
Updated:
January 30, 2012, 10:55 AM ET
By
Dan Szymborski
| Baseball Think Factory
The 2011-12 offseason set off its final fireworks last week when the Detroit Tigers came out of nowhere to sign Prince Fielder to a nine-year, $214 million contract. With Fielder locked up, Edwin Jackson is now the only clearly above-average free agent left on the market. Short of one last mega-trade, always a possibility, most teams essentially have their courses plotted for the 2012 season. For the Tigers and Los Angeles Angels, that course is already plotted for the next several years, as a result of the signings of Fielder and Albert Pujols.
At total contract values of $254 million and $214 million for Pujols and Fielder, respectively, the Angels and Tigers made major statements about what they hope to accomplish during the next few seasons. After all, one doesn't sign superstars to the second- or fourth-biggest deals in baseball history with the intention of undergoing a radical rebuilding or extensive fire sale.
The thing is, contracts aren't signed in a vacuum. Pujols might put up better fantasy stats than Fielder over the next nine years, but if the Tigers win more World Series than the Angels, then you'd have to say Detroit's deal worked out better. So the question is: Which team is in better position to capitalize on its investment?
To see which team has a better long-term outlook, become an ESPN Insider today.
Insider
Offseason Buyer's Guide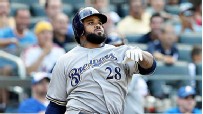 Prince Fielder headlines the 2011 free agent class, but who are the other players who could be changing teams this winter?
Rankings
Nov. 3:
Law: Top 50 free agents
|
Tracker
Nov. 4:
Bowden: Projected value rankings
Reaction
Jan. 25:
Bowden: How Detroit landed Prince
Jan. 24:
Law: Fielder helps now, not later
Jan. 14:
Bowden: Grading Yankees-M's deal
Jan. 13:
Law: Pineda-Montero deal a win-win
Jan. 11:
Law: Madson a steal for Reds
Jan. 6:
Law: Cubs win Cashner-Rizzo deal
Dec. 31:
Law: Quentin a mediocre fit in S.D
Buyer's Guide
Nov. 12:
Buyers Guide: Catchers
Nov. 11:
Buyers Guide: Relief Pitchers
Nov. 10:
Buyers Guide: Starting Pitchers
Nov. 9:
Buyers Guide: Third basemen
Nov. 8:
Buyers Guide: Outfielders
Nov. 7:
Buyers Guide: Middle infielders
Nov. 4:
Buyers Guide: First basemen/DH
Features
Feb. 9:
Perry: A case for the Nats
Feb. 7:
Szymborski: Ellsbury to fall off
Feb. 6:
Cameron: The cost of moving to third
Feb. 3:
Meyers: Poor drafts doom Cubs, Mets
Feb. 2:
Bowden: How to rebuild the Orioles
Feb. 1:
Goldstein: How good is Cespedes?
Jan. 30:
Szymborski: Projecting Angels, Tigers
History
•
Law: 2010 top 50 rankings
•
Law: 2009 top 50 rankings
•
Law: 2008 top 50 rankings
•
Law: 2007 top 50 rankings
•
Law: 2006 top 40 rankings