Discussion
The Yoenis Cespedes test
MLB execs compare the Cuban outfielder to current big leaguers
Updated:
February 13, 2012, 12:52 PM ET
By
Kevin Goldstein
| Baseball Prospectus
This story originally ran on Feb. 1, but we are linking to it again in light of the report that Yoenis Cespedes has agreed to terms with the Oakland A's.
Now that Yu Darvish is a Texas Ranger, all the attention on the international market has gone to Cuban defector Yoenis Cespedes, with the light becoming brighter last week when his residency in the Dominican Republic was established, making him finally eligible to sign. His U.S.-based representative, Adam Katz, insists that Cespedes will be in camp with a team, so a signing could happen soon, and it's time to talk about just how good he can be.
Similar to last month's piece on Darvish, I polled big league executives, many with extensive international experience and in-person looks at Cespedes. I didn't ask specifically about tools or projection. Instead, I asked whether the exec would take Cespedes over a series of five ultra-toolsy 20-something outfielders (like Cespedes) who have yet to reach their ceiling. The players are Colby Rasmus, Drew Stubbs, B.J. Upton, Chris Young and Adam Jones. The question, as presented to the insiders, was a simple one: You can have either Cespedes or each of these five outfielders for the remainder of their career -- and for free -- so cost should not enter into the decision.
Once again, opinions on where Cespedes fit on the scale were all over the board, with both extremes occurring as one exec took all five big leaguers ahead of Cespedes, while another chose Cespedes over all five established players.
---
Scouting report: Once one of the top outfield prospects in baseball, Rasmus seemed to be growing into stardom during his second full season, but clashes with Tony La Russa led to a 2011 trade to Toronto. Things didn't get any better there, as Rasmus limped to the end with a final batting line of .225/.298/.391.
Rasmus had few supporters among those polled, although one National League exec who favored Rasmus over Cespedes is still a believer. "He's just so young, and look at what he just did in 2010," he said.
Others were not as convinced. "I just don't think he's as good as maybe he should be," said an AL scouting executive. "I don't like the swing, and there's something about the J.D. Drew way he goes about things."
Another American League front office member was also tired of the excuses. "I just don't buy the whole 'Tony La Russa turned this guy into a bad player' thing," he said.
One National League scout who preferred Rasmus said position plays a role in the discussion as well. "I know I'm in the minority here, but I see Cespedes as more of a right fielder than one who can patrol center," he explained. "That puts far more pressure on the bat."
The vote: Cespedes, 6-2
To see how execs think Yeonis Cespedes compares to Colby Rasmus, Adam Jones, Chris Young, B.J. Upton and Drew Stubbs, become an ESPN Insider.
Insider
Offseason Buyer's Guide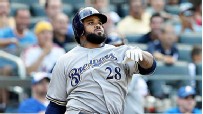 Prince Fielder headlines the 2011 free agent class, but who are the other players who could be changing teams this winter?
Rankings
Nov. 3:
Law: Top 50 free agents
|
Tracker
Nov. 4:
Bowden: Projected value rankings
Reaction
Jan. 25:
Bowden: How Detroit landed Prince
Jan. 24:
Law: Fielder helps now, not later
Jan. 14:
Bowden: Grading Yankees-M's deal
Jan. 13:
Law: Pineda-Montero deal a win-win
Jan. 11:
Law: Madson a steal for Reds
Jan. 6:
Law: Cubs win Cashner-Rizzo deal
Dec. 31:
Law: Quentin a mediocre fit in S.D
Buyer's Guide
Nov. 12:
Buyers Guide: Catchers
Nov. 11:
Buyers Guide: Relief Pitchers
Nov. 10:
Buyers Guide: Starting Pitchers
Nov. 9:
Buyers Guide: Third basemen
Nov. 8:
Buyers Guide: Outfielders
Nov. 7:
Buyers Guide: Middle infielders
Nov. 4:
Buyers Guide: First basemen/DH
Features
Feb. 9:
Perry: A case for the Nats
Feb. 7:
Szymborski: Ellsbury to fall off
Feb. 6:
Cameron: The cost of moving to third
Feb. 3:
Meyers: Poor drafts doom Cubs, Mets
Feb. 2:
Bowden: How to rebuild the Orioles
Feb. 1:
Goldstein: How good is Cespedes?
Jan. 30:
Szymborski: Projecting Angels, Tigers
History
•
Law: 2010 top 50 rankings
•
Law: 2009 top 50 rankings
•
Law: 2008 top 50 rankings
•
Law: 2007 top 50 rankings
•
Law: 2006 top 40 rankings