Discussion
Projecting MLB's best sophomores
Brett Lawrie and Eric Hosmer are two sophomore hitters poised for big seasons
Updated:
February 14, 2012, 1:16 PM ET
By
Dan Szymborski
| Baseball Think Factory
If you're looking for which team has been dealt the toughest hand in baseball for the 2012 season, you can make a solid case that it's the Toronto Blue Jays. While some teams have a lot less money and some teams have a lot less talent, Toronto finds itself in perhaps the most frustrating position in baseball -- being a merely good team in the same division as the New York Yankees, Boston Red Sox and Tampa Bay Rays.
Since winning the World Series in 1993, the Blue Jays have been a franchise most epitomized by adequacy. With only a single exception among full seasons -- the 2004 team that went 67-94 -- the Jays have been between 74 and 88 wins every single season. That's enough to get you a shot at the division in some places, but Toronto plays in a division in which adequate is rarely good enough.
With Tampa Bay having shown that you can play with the Red Sox and Yankees, the Blue Jays took a chance on a new path, promoting former assistant general manager Alex Anthopoulos to the big chair. Anthopoulos, the latest in the new wave of GMs as comfortable in an economics class as a baseball diamond, has spent the last two-and-a-half years aggressively remaking Toronto into a 21st-century franchise.
Not every decision Anthopoulos has made has worked out -- no GM in history will have a record like Mike Tyson or Muhammad Ali -- but one acquisition in particular stands out both as a tremendous boon to the future and an example of what Anthopoulos brings to the franchise: The trade that brought in Brett Lawrie from the Milwaukee Brewers for starting pitcher Shaun Marcum.
Nobody can say Lawrie snuck up on anyone in 2011. While nobody really expected him to slug .580 in his initial stint in the majors, Lawrie's a former first-rounder and was at or near the top of everyone's Brewers prospect list. What made Lawrie such a quality acquisition is that, with his value down because of concerns about his defense and attitude, Anthopoulos looked past it and focused on Lawrie's tremendous upside rather than his shortcomings. Hall of Fame manager Earl Weaver said it best: "I don't focus on what my players can't do well, I try to utilize what they do well."
So what's next for Lawrie? Given his age, just 21 last season, the increase in Lawrie's power is more likely maintained than a similar improvement for an older prospect. The younger the player, the greater the likelihood that gains will be maintained. The ZiPS projection system likes Lawrie in 2012 as much as scouts or anybody who watched him in Toronto last year, projecting a .275/.333/.498 line with 27 homers, 79 RBIs and 24 stolen bases. If Lawrie can continue to do an adequate job at third, he could challenge Evan Longoria and Ryan Zimmerman for fantasy supremacy at the position. In the long-term, ZiPS gives Lawrie solid odds at becoming a 6-WAR player, which is a guy who has the potential to be in the running for the MVP in a career year, and projection systems aren't generally known for overenthusiasm.
Let's take a look at how the rest of last year's top rookies project for this season.
Sophomore projections
To read the full story from Dan Szymborski, plus gain access to all of ESPN Insider's daily MLB content, sign up for Insider.
Insider
Offseason Buyer's Guide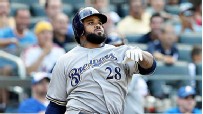 Prince Fielder headlines the 2011 free agent class, but who are the other players who could be changing teams this winter?
Rankings
Nov. 3:
Law: Top 50 free agents
|
Tracker
Nov. 4:
Bowden: Projected value rankings
Reaction
Jan. 25:
Bowden: How Detroit landed Prince
Jan. 24:
Law: Fielder helps now, not later
Jan. 14:
Bowden: Grading Yankees-M's deal
Jan. 13:
Law: Pineda-Montero deal a win-win
Jan. 11:
Law: Madson a steal for Reds
Jan. 6:
Law: Cubs win Cashner-Rizzo deal
Dec. 31:
Law: Quentin a mediocre fit in S.D
Buyer's Guide
Nov. 12:
Buyers Guide: Catchers
Nov. 11:
Buyers Guide: Relief Pitchers
Nov. 10:
Buyers Guide: Starting Pitchers
Nov. 9:
Buyers Guide: Third basemen
Nov. 8:
Buyers Guide: Outfielders
Nov. 7:
Buyers Guide: Middle infielders
Nov. 4:
Buyers Guide: First basemen/DH
Features
Feb. 9:
Perry: A case for the Nats
Feb. 7:
Szymborski: Ellsbury to fall off
Feb. 6:
Cameron: The cost of moving to third
Feb. 3:
Meyers: Poor drafts doom Cubs, Mets
Feb. 2:
Bowden: How to rebuild the Orioles
Feb. 1:
Goldstein: How good is Cespedes?
Jan. 30:
Szymborski: Projecting Angels, Tigers
History
•
Law: 2010 top 50 rankings
•
Law: 2009 top 50 rankings
•
Law: 2008 top 50 rankings
•
Law: 2007 top 50 rankings
•
Law: 2006 top 40 rankings