Discussion
Royals will contend, but not now
Kansas City is a promising club, but it still has too many roster holes to fill
Updated:
March 5, 2012, 12:28 PM ET
By
Dave Cameron
| FanGraphs
The Kansas City Royals have an awful lot of young talent. Even after graduating top prospects Eric Hosmer, Mike Moustakas and Danny Duffy to the majors last year, they still placed five players on Keith Law's list of the 100 best prospects in baseball, and he rated their farm system as the fifth-best in the game right now. Their oldest projected position player is Alex Gordon, who just turned 28 on Feb. 10, and besides Bruce Chen, their entire pitching staff is a bunch of 20-somethings.
The Royals will almost certainly be one of the youngest teams in Major League Baseball this year, and with all the highly touted young talent they've developed internally during the last few seasons, comparisons to the 2008 Tampa Bay Rays are inevitable. However, a closer inspection of what we should actually expect from the Royals' young talents this year suggests that this team just isn't ready to win yet.
Let's start with the lineup, which is where a good amount of the optimism around the Royals is based. With Gordon coming off a breakout season, continued improvement from 26-year-old DH Billy Butler, and the potential for full years from Hosmer and Moustakas, the Royals have a core group of talented young hitters to build around. However, the Royals shouldn't expect to get that much more from that quarter than they got from those same positions one year ago.
To read the full story, plus gain access to all of ESPN Insider's daily MLB content, sign up to become an Insider.
Insider
Spring Fever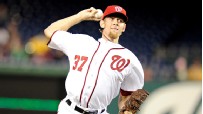 Stephen Strasburg is at the center of any conversation about the 2012 season ... and beyond.
Future Power Rankings
Buster, Bowden and Law break down how well your team is set up for the future.
Part 1: No. 30-21
Part 2: No. 20-11
Part 3: No. 10-1
Audio: Shocks and surprises
Future Power Rankings methodology
Keith Law's top prospects
Features
March 30:
Szymborski: AL standings
|
NL
March 29:
BP: Four fading Phillies
March 27:
Szymborski: Five non-flukes
March 26:
Cameron: Top 500's underachievers
March 23:
Cameron: Will Strasburg be the same?
March 22:
BP: Smoak underrated by Safeco
March 21:
Szymborski: The next Bautista
March 19:
Cameron: Controlling Bryce's price
March 15:
Goldstein: Prospects making waves
March 15:
BP: Who's starting the wrong guy?
March 12:
Cameron: Tribe's nasty rotation
March 10:
Lindbergh: Sale a good bet to succeed