Discussion
The D-backs' MVP
Stephen Drew's worth to Arizona reflects the scarcity of talent at his position
Updated:
March 9, 2012, 10:21 AM ET
By
Dave Cameron
| FanGraphs
Stephen Drew is not the best player on the Arizona Diamondbacks -- that would be Justin Upton. Drew isn't the best player at his own position, nor do his numbers (including a career line of .270 AVG/.330 OBP/.442 SLG ) jump off the page at first glance. And yet, given the current state of major league shortstops, Drew's health might be as critical to the team's success as any other variable.
Drew is recovering from a fractured right ankle, and his status for Opening Day is in serious doubt. More likely, he'll continue to rehab once the season begins and join the team in early May. How quickly he's able to get back to what he was before the injury could very well determine how successful the Diamondbacks will be in 2012, however.
That's because a player's value is directly related to how good he is compared to the alternative options a team can field, and indirectly, how much better he is than his peers at the same position on other teams. And right now, major league shortstops are a barren wasteland of offensive talent.
There are essentially three guys in the sport who can play shortstop and be significant difference-makers at the plate -- Troy Tulowitzki, Jose Reyes and Hanley Ramirez. The latter two are now teammates, so Ramirez has shifted off the position, even further diluting the pool of talent at shortstop around the game. Last year, major league shortstops hit .263/.317/.380, and only the Colorado Rockies and New York Mets received an .800 OPS or better from their combination of shortstops. For comparison, seven teams got at least that level of production in 1999, and three teams got a .900 OPS or better from their shortstops.
To see why Stephen Drew is Arizona's MVP, become an ESPN Insider.
Insider
Spring Fever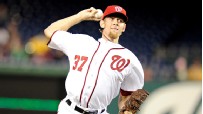 Stephen Strasburg is at the center of any conversation about the 2012 season ... and beyond.
Future Power Rankings
Buster, Bowden and Law break down how well your team is set up for the future.
Part 1: No. 30-21
Part 2: No. 20-11
Part 3: No. 10-1
Audio: Shocks and surprises
Future Power Rankings methodology
Keith Law's top prospects
Features
March 30:
Szymborski: AL standings
|
NL
March 29:
BP: Four fading Phillies
March 27:
Szymborski: Five non-flukes
March 26:
Cameron: Top 500's underachievers
March 23:
Cameron: Will Strasburg be the same?
March 22:
BP: Smoak underrated by Safeco
March 21:
Szymborski: The next Bautista
March 19:
Cameron: Controlling Bryce's price
March 15:
Goldstein: Prospects making waves
March 15:
BP: Who's starting the wrong guy?
March 12:
Cameron: Tribe's nasty rotation
March 10:
Lindbergh: Sale a good bet to succeed