Discussion
Brandon Belt's buried value
The Giants' slugger and four other players who aren't being properly utilized
Updated:
March 15, 2012, 3:01 PM ET
By
Ben Lindbergh
| Baseball Prospectus
Every year, major league teams spend millions on evaluating and acquiring players from outside their organizations, whether they're amateurs eligible for the draft, professionals in another system, or foreign or domestic free agents available to the highest bidder. Sometimes, though, a potential source of improvement is already in house, overlooked in favor of a more experienced or higher-paid player who's no longer the best man for the job.
The following five presumptive bench players are too old or established to qualify as prospects but could be better than the veterans they'll be backing up at the start of the season. And if these teams don't get their act together, this decision could seriously cost them.

"Free Brandon Belt" has become such a popular refrain in San Francisco that Giants fans have taken to wearing it on their shirts. Belt entered last season as the Giants' top prospect and earned a starting spot at first base with a strong spring training.
To read the full story, plus get access to all of ESPN Insider's daily MLB content, sign up today and become an Insider.
Insider
Spring Fever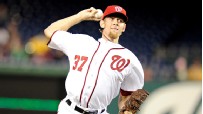 Stephen Strasburg is at the center of any conversation about the 2012 season ... and beyond.
Future Power Rankings
Buster, Bowden and Law break down how well your team is set up for the future.
Part 1: No. 30-21
Part 2: No. 20-11
Part 3: No. 10-1
Audio: Shocks and surprises
Future Power Rankings methodology
Keith Law's top prospects
Features
March 30:
Szymborski: AL standings
|
NL
March 29:
BP: Four fading Phillies
March 27:
Szymborski: Five non-flukes
March 26:
Cameron: Top 500's underachievers
March 23:
Cameron: Will Strasburg be the same?
March 22:
BP: Smoak underrated by Safeco
March 21:
Szymborski: The next Bautista
March 19:
Cameron: Controlling Bryce's price
March 15:
Goldstein: Prospects making waves
March 15:
BP: Who's starting the wrong guy?
March 12:
Cameron: Tribe's nasty rotation
March 10:
Lindbergh: Sale a good bet to succeed