Discussion
Pettitte an upgrade for Yanks
The southpaw projects as better than a couple of New York's current starters
Updated:
March 16, 2012, 3:10 PM ET
By
Dan Szymborski
| Baseball Think Factory
When Andy Pettitte retired after an 11-3, 3.28 season in 2010, it appeared he still had something left in his arm at the age of 38. After a year off, the 240-game-winning lefty apparently agrees, signing a 1-year, $2.5 million minor league deal with the New York Yankees.
Now the question is: How likely is it that Pettitte will successfully make a comeback? Working in Pettitte's favor was the fact that when he retired, he was still a valuable pitcher, not a hurler just hanging onto his job by the skin of his teeth. Pitchers do come back from missing years all the time, mostly due to serious injury. Surely it would be easier for a healthy pitcher to come back.
To see which Yankees starters Pettitte projects to be better than, become an ESPN Insider.
Insider
Spring Fever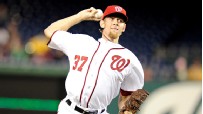 Stephen Strasburg is at the center of any conversation about the 2012 season ... and beyond.
Future Power Rankings
Buster, Bowden and Law break down how well your team is set up for the future.
Part 1: No. 30-21
Part 2: No. 20-11
Part 3: No. 10-1
Audio: Shocks and surprises
Future Power Rankings methodology
Keith Law's top prospects
Features
March 30:
Szymborski: AL standings
|
NL
March 29:
BP: Four fading Phillies
March 27:
Szymborski: Five non-flukes
March 26:
Cameron: Top 500's underachievers
March 23:
Cameron: Will Strasburg be the same?
March 22:
BP: Smoak underrated by Safeco
March 21:
Szymborski: The next Bautista
March 19:
Cameron: Controlling Bryce's price
March 15:
Goldstein: Prospects making waves
March 15:
BP: Who's starting the wrong guy?
March 12:
Cameron: Tribe's nasty rotation
March 10:
Lindbergh: Sale a good bet to succeed