Discussion
ESPN 500: Players No. 351-400
Updated:
March 21, 2012, 3:01 PM ET
ESPN.com
Who are the best players in Major League Baseball heading into the 2012 season? ESPN formed a panel of MLB writers, analysts and contributors to rank the top 500. The countdown from No. 500 to No. 1 began March 20 and ends April 3.
The results are being announced on ESPN.com, on Facebook and Twitter (@ESPN_MLB). Fans can use the hashtag #ESPN500 to join the discussion or to follow along.
To compile a top-500 ranking, 34 ESPN experts started with a list of the top 600 ...

Read full story
TOP 500 MLB PLAYERS OF 2012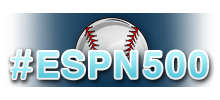 Follow the top 500 rankings and join the discussion on Facebook and Twitter (@ESPN_MLB) at #ESPN500.
RANKINGS SCHEDULE
Tuesday, March 20
Players ranked Nos. 401-500
· Triple Play: Surprises among bottom 100 »
· Video: Who could break out? »
· Szymborski: The next Jose Bautista? »
· Video: Who Kurkjian likes in 'bottom' 100 »

Wednesday, March 21
Players ranked Nos. 351-400
· Triple Play: Is Dunn done? »
· Video: Slumping sluggers »

Thursday, March 22
Players ranked Nos. 301-350
· BP: Underrated by ballpark »
· Triple Play: Top 100 in 2013? »
· Video: Youngsters to watch »

Friday, March 23
Players ranked Nos. 251-300
· Triple Play: No love for R.A. Dickey? »
· BBTN Video: Zambrano & names to note »

Monday, March 26
Players ranked Nos. 201-250
· Cameron: Top 500's underachievers »
· Triple Play: Helton for Hall of Fame? »
· Video: Bowden & Stark on Cuban duo »

Tuesday, March 27
Players ranked Nos. 151-200
· Triple Play: Who's listed too high? »
· Law: Who'll be No. 1 in 2017 »
· Video: Law/Schoenfield on three rookies »

Wednesday, March 28
Players ranked Nos. 101-150
· Triple Play: Is Jeter still elite? »
· Schoenfield: Jeter's year-to-year rank »
· Video: BBTN on Jeter at No. 115 »

Thursday, March 29
Players ranked Nos. 51-100
· Triple Play: Strasburg, Andrus worthy? »
· Insider: Phillies' age issue »
· Video: Darvish, Strasburg or Moore? »

Friday, March 30
Players ranked Nos. 26-50
· Triple Play: Moving up, A-Rod's HR pursuit »
· Insider: Is Johnson the Marlins' best P? »
· Video: McCutchen or Stanton? »

Monday, April 2
Players ranked Nos. 11-25
· Triple Play: Is Mo too high, who's too low? »
· Insider: Who are the top gloves? »
· Video: BBTN on Mariano Rivera at No. 12 »

Tuesday, April 3
Players ranked Nos. 1-10
· Breakdowns by team/position »
· Insider: Most over- or underrated? »
· Triple Play: Did the voters get it right?
· Video: BBTN on Pujols as No. 1 »

TEAM-BY-TEAM RANKINGS
Check out where players ranked on each team: