Discussion
The grand scheme
The new Marlins Park is an architectural marvel. Will that put fans in the seats?
Updated:
March 29, 2012, 3:02 PM ET
By
Peter Richmond
| ESPN The Magazine
FOR THE 11TH TIME IN A DOZEN YEARS, we cue the lights and unveil another state-of-the-art ballpark. This time it's in Miami -- my old town, the northernmost city in South America. But this opening ceremony is more than just another stadium upgrade: Down here, the stakes feel a little higher, if not desperate.
Despite two World Series titles in their first 11 years, the Marlins have managed to earn total irrelevancy. The locals will always love Dan Marino more than ...

Read full story
ESPN The Magazine: April 2, 2012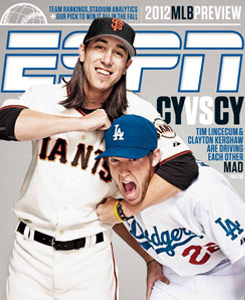 FEATURES IN THE MLB PREVIEW

COLUMNS

MORE FROM THE ISSUE