Discussion
Cactus League prospect pulse
Trevor Bauer and other prospects standing out in Arizona this spring
Updated:
March 21, 2012, 1:31 PM ET
By
Kevin Goldstein
| Baseball Prospectus
After last week's look at some prospects making noise in Florida, we shift focus this week to Arizona, from where I've just returned from a tour of several camps.

Much of the focus on last year's third overall pick in the draft is on his unorthodox warm-up routines, but scouts are focusing on him as a pitcher. While he has less the 30 professional innings under his belt, many were surprised to see Bauer lose out on the final spot in the Arizona rotation. "He won't be in the minors for long," said an American League scout. "I just don't see any reason he can't get big league hitters out right now. He's coming at guys with three average or better pitches and throwing strikes with it."
While it looks more and more like Bauer will begin the year in the minors, he's one of the rare prospects who could simply force his way into the big leagues with his performance and not need the help of an injury or poor performance at the big league level.
To read the full prospect report from Kevin Goldstein, plus get access to all of ESPN Insider's daily MLB content, sign up today and become an Insider.
Insider
Spring Fever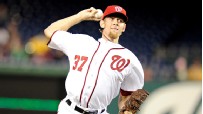 Stephen Strasburg is at the center of any conversation about the 2012 season ... and beyond.
Future Power Rankings
Buster, Bowden and Law break down how well your team is set up for the future.
Part 1: No. 30-21
Part 2: No. 20-11
Part 3: No. 10-1
Audio: Shocks and surprises
Future Power Rankings methodology
Keith Law's top prospects
Features
March 30:
Szymborski: AL standings
|
NL
March 29:
BP: Four fading Phillies
March 27:
Szymborski: Five non-flukes
March 26:
Cameron: Top 500's underachievers
March 23:
Cameron: Will Strasburg be the same?
March 22:
BP: Smoak underrated by Safeco
March 21:
Szymborski: The next Bautista
March 19:
Cameron: Controlling Bryce's price
March 15:
Goldstein: Prospects making waves
March 15:
BP: Who's starting the wrong guy?
March 12:
Cameron: Tribe's nasty rotation
March 10:
Lindbergh: Sale a good bet to succeed