Discussion
Thome on his Philly to-do list
The slugger, now back at first base, has one thing on his agenda
The Mag: What makes this season in Philly special for you?
JT: Everyone knows the talent and the type of team this has been over the past five years. Chasing that World Series is in every player's mind, and to maybe get one more opportunity to try to win it is very, very special.
What are you most looking forward to this season?
Being in a clubhouse with winners. Lee, Halladay, Utley, Howardthese guys are some of the game's best right now.
They're ...

Read full story
ESPN The Magazine: April 2, 2012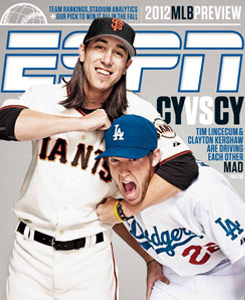 FEATURES IN THE MLB PREVIEW

COLUMNS

MORE FROM THE ISSUE