Discussion
It's a whole new ballgame
From Pujols in L.A. to playoffs to Marlins Park, 2012 season has a different look
Originally Published:
March 28, 2012
By
Jayson Stark
| ESPN.com
What's new?
Once upon a time in baseball, that used to be a harmless little question, kinda like: Who's pitching tonight? But not anymore. Not this year, as the 2012 season comes roaring at us.
If you ask, "What's new?" this year, the answer you get back might be something along the lines of: "Sheez, ya got an hour so I can fill you in?"
What's new, huh?
Wow. Where do we start? New ballpark in Miami. New owners (soon) in L.A. ...

Read full story
2012 MLB PREVIEW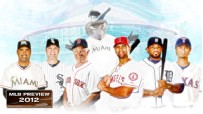 HOME PAGE
THURSDAY, MARCH 29
WEDNESDAY, MARCH 28