Discussion
Is Jeter still elite?
Our experts discuss Part 7 of ESPN's top 500 player rankings for 2012
Updated:
March 28, 2012, 2:54 PM ET
ESPN.com
With its unveiling of the top 500 players in baseball, ESPN.com is launching Triple Play, a weekday feature that will run throughout the season and include three ESPN contributors answering three topical questions. For now, the feature will focus on the top 500 rankings, but Triple Play's concentration will shift to the daily MLB buzz once the season begins.
Today we'll look at Part 7 of our ESPN 500 series, which focuses on players who rank from 151 to 200. Feel free to ...

Read full story
TOP 500 MLB PLAYERS OF 2012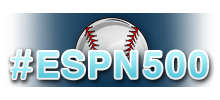 Follow the top 500 rankings and join the discussion on Facebook and Twitter (@ESPN_MLB) at #ESPN500.
RANKINGS SCHEDULE
Tuesday, March 20
Players ranked Nos. 401-500
· Triple Play: Surprises among bottom 100 »
· Video: Who could break out? »
· Szymborski: The next Jose Bautista? »
· Video: Who Kurkjian likes in 'bottom' 100 »

Wednesday, March 21
Players ranked Nos. 351-400
· Triple Play: Is Dunn done? »
· Video: Slumping sluggers »

Thursday, March 22
Players ranked Nos. 301-350
· BP: Underrated by ballpark »
· Triple Play: Top 100 in 2013? »
· Video: Youngsters to watch »

Friday, March 23
Players ranked Nos. 251-300
· Triple Play: No love for R.A. Dickey? »
· BBTN Video: Zambrano & names to note »

Monday, March 26
Players ranked Nos. 201-250
· Cameron: Top 500's underachievers »
· Triple Play: Helton for Hall of Fame? »
· Video: Bowden & Stark on Cuban duo »

Tuesday, March 27
Players ranked Nos. 151-200
· Triple Play: Who's listed too high? »
· Law: Who'll be No. 1 in 2017 »
· Video: Law/Schoenfield on three rookies »

Wednesday, March 28
Players ranked Nos. 101-150
· Triple Play: Is Jeter still elite? »
· Schoenfield: Jeter's year-to-year rank »
· Video: BBTN on Jeter at No. 115 »

Thursday, March 29
Players ranked Nos. 51-100
· Triple Play: Strasburg, Andrus worthy? »
· Insider: Phillies' age issue »
· Video: Darvish, Strasburg or Moore? »

Friday, March 30
Players ranked Nos. 26-50
· Triple Play: Moving up, A-Rod's HR pursuit »
· Insider: Is Johnson the Marlins' best P? »
· Video: McCutchen or Stanton? »

Monday, April 2
Players ranked Nos. 11-25
· Triple Play: Is Mo too high, who's too low? »
· Insider: Who are the top gloves? »
· Video: BBTN on Mariano Rivera at No. 12 »

Tuesday, April 3
Players ranked Nos. 1-10
· Breakdowns by team/position »
· Insider: Most over- or underrated? »
· Triple Play: Did the voters get it right?
· Video: BBTN on Pujols as No. 1 »

TEAM-BY-TEAM RANKINGS
Check out where players ranked on each team: