Discussion
Going, going, gone?
A glimpse at how Pujols and Fielder may fare in their new parks
Updated:
March 29, 2012, 1:16 PM ET
ESPN The Magazine
It took more than $450 million combined to bring Albert Pujols to Angel Stadium and Prince Fielder to Comerica Park. Money well spent? ESPN Stats & Info Group charted their home-field bombs since 2009 -- and where those would've landed in their new parks. To see the results, become an ESPN Insider today!
Insider
ESPN The Magazine: April 2, 2012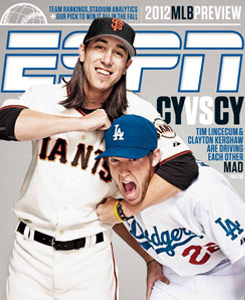 FEATURES IN THE MLB PREVIEW

COLUMNS

MORE FROM THE ISSUE