Discussion
Best MLB prop bets for 2012
Using advanced projections to bring you the smartest wagers this year
Updated:
April 2, 2012, 4:35 PM ET
By
Dan Szymborski
| Baseball Think Factory
When you look at the history of sports, you'll always find gambling. The laws concerning gambling vary by country and state, but whether legal, illegal or walking that vague line between, where you see sports, you'll tend to find people betting on those sports.
Gambling is designed to be lucrative for the house, so it's hard to finish in the black. In the long run, the house always wins, so when you're gambling against the house, it makes sense to pick and choose your spots. Vegas' lines are usually very accurate -- while sportsbooks set lines to maximize their payout and not necessarily to pick the correct outcome, the wisdom of crowds can be hard to overcome.
Like a lot of other math-and-sports nerds, I like to put some of my disposal income into making a variety of bets. Baseball seasonal prop bets are always fun because they give you a season's worth of anticipation, so I thought I'd share some of my favorite bets for the 2012 season. I used to the ZiPS projection system to highlight wagers where my projections and Vegas have the widest gap to give you what I think are the best MLB prop bets for 2012.
This is one article for which I have some skin in the game -- I've already placed bets on most of these. So if you follow me, at least we're in it together.

Atlanta Braves (Line: 9-2, ZiPS: 2.4-1) or Miami Marlins (Line: 9-2, ZiPS: 3-1) win NL East
To read the full story on 2012 MLB prop bets, sign up today and become an ESPN Insider.
Insider
Spring Fever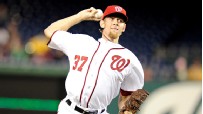 Stephen Strasburg is at the center of any conversation about the 2012 season ... and beyond.
Future Power Rankings
Buster, Bowden and Law break down how well your team is set up for the future.
Part 1: No. 30-21
Part 2: No. 20-11
Part 3: No. 10-1
Audio: Shocks and surprises
Future Power Rankings methodology
Keith Law's top prospects
Features
March 30:
Szymborski: AL standings
|
NL
March 29:
BP: Four fading Phillies
March 27:
Szymborski: Five non-flukes
March 26:
Cameron: Top 500's underachievers
March 23:
Cameron: Will Strasburg be the same?
March 22:
BP: Smoak underrated by Safeco
March 21:
Szymborski: The next Bautista
March 19:
Cameron: Controlling Bryce's price
March 15:
Goldstein: Prospects making waves
March 15:
BP: Who's starting the wrong guy?
March 12:
Cameron: Tribe's nasty rotation
March 10:
Lindbergh: Sale a good bet to succeed