Discussion
Votto deal a coup for Reds
The 2010 NL MVP projects to age gracefully and provide excellent value
Updated:
April 3, 2012, 7:27 AM ET
By
Dan Szymborski
| Baseball Think Factory
Fans of the Los Angeles Dodgers, New York Yankees and Toronto Blue Jays can now officially stop imagining Joey Votto in their respective uniforms. The National League's 2010 MVP will be staying in Cincinnati for the next decade thanks to a 10-year, $225 million extension he agreed to on Monday that will take him through the 2023 season.
One of the largest questions the Reds needed to answer last year was what to do at first base in the long term. Votto had already established himself as one of the best first basemen the franchise ever had, earning his place along Tony Perez and Ted Kluszewski with a three-year run that any player would be proud to claim. Problem is, Votto was set to hit free agency following the 2013 season, and most people assumed the Reds couldn't afford him.
Plan B involved using Yonder Alonso at first and try to land a blockbuster package in return for Votto. Cincy experimented with Alonso in the outfield in an attempt to squeeze both into the lineup, but his defense out there displays less range than a Michael Bay movie. And when the Reds sent Alonso to San Diego in the offseason as part of the Mat Latos deal, perhaps we should have seen the Votto extension coming.
So bring in the celebratory Skyline Chili; the Reds made the right decision. Alonso topped the prospect lists, but when it comes down to it, it's very hard to trade your best player and replace him with a 25-year-old first baseman who has never topped 15 home runs in a single minor league season. He may become a star in the end, but when someone wants to give you Latos for the privilege of finding out, let them.
For a full breakdown of Votto's projection, become an Insider today.
Insider
Spring Fever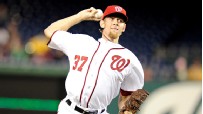 Stephen Strasburg is at the center of any conversation about the 2012 season ... and beyond.
Future Power Rankings
Buster, Bowden and Law break down how well your team is set up for the future.
Part 1: No. 30-21
Part 2: No. 20-11
Part 3: No. 10-1
Audio: Shocks and surprises
Future Power Rankings methodology
Keith Law's top prospects
Features
March 30:
Szymborski: AL standings
|
NL
March 29:
BP: Four fading Phillies
March 27:
Szymborski: Five non-flukes
March 26:
Cameron: Top 500's underachievers
March 23:
Cameron: Will Strasburg be the same?
March 22:
BP: Smoak underrated by Safeco
March 21:
Szymborski: The next Bautista
March 19:
Cameron: Controlling Bryce's price
March 15:
Goldstein: Prospects making waves
March 15:
BP: Who's starting the wrong guy?
March 12:
Cameron: Tribe's nasty rotation
March 10:
Lindbergh: Sale a good bet to succeed