Discussion
Harper and Pujols' race for a homer
Plus talk of Zito's resurgence and the worst team in baseball
Originally Published:
May 1, 2012
ESPN.com
It's now May 2, and Albert Pujols still doesn't have a home run. You know who else doesn't? Bryce Harper. As someone asked on Twitter: Which one of them will homer first? The answer to that, plus talk of the worst team in baseball and Barry Zito's resurgence, in today's Triple Play.
You, too, can let us know what you want our experts to discuss: Tweet us @ESPN_MLB with suggestions. You also can use the #espntripleplay hashtag.
1. Who will homer first: Pujols or Harper? ...

Read full story
MLB on ESPN.com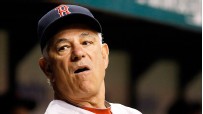 VALENTINE FIRED