Discussion
The majors miracle of Ivan Nova
Against the odds, the Yankees pitcher made it to the big leagues from the D.R.
Unless you're a New York Yankees fan, you probably haven't thought much about Ivan Nova.
You might think he's overrated because he pitches in New York, his 21-8 career record undone by a 4.21 earned run average.
Or maybe you think he's underrated, a 5.69 ERA this season offset by a well-above-average 3.46 xFIP (expected fielder independent pitching, a statistical tool that helps gauge a pitcher's performance independent of outside factors, such as the quality of his team's ...

Read full story
MLB on ESPN.com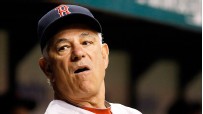 VALENTINE FIRED