Discussion
Three transformed pitchers
Shields, Lee and Hammel have become ground ball machines
Updated:
June 1, 2012, 3:20 PM ET
By
Dave Cameron
| FanGraphs
At the top of the ground ball leaderboards for starting pitchers are three pretty familiar names -- Derek Lowe, Trevor Cahill and Jake Westbrook. All three rely heavily on their sinkers and are primarily pitch-to-contact starters who rely on their infielders to make outs behind them. They have long track records of extreme ground ball rates, and their performance this year is nothing new.
However, coming in right behind Westbrook is James Shields, who is getting ground balls on 59 percent of his balls in play this year. Shields is nothing like Lowe, Cahill or Westbrook -- he's a strikeout pitcher who throws a lot of changeups and has never relied much on the ground ball in previous years. In fact, from 2009 to 2011, Shields' GB percentage was 43.3, slightly below the league average. Shields' extreme spike in getting ground balls is fascinating enough on its own, but is compounded by the fact that he's not the only guy who has transformed himself into a ground ball pitcher in the first two months of the season.
For full access to all of Insider's MLB coverage, sign up today.
Insider
MLB on ESPN.com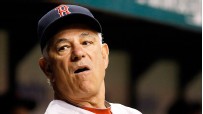 VALENTINE FIRED