Discussion
Bring on more instant replay?
How about when it comes to calling balls and strikes? Plus, Bill Maher joins Mets
Originally Published:
June 5, 2012
ESPN.com
Instant replay remains a hot topic these days. Are you for or against it? Our experts dig in and discuss this and much more in Tuesday's Triple Play.
Let us know what you want our experts to discuss by tweeting @ESPN_MLB with suggestions. You also can use the #espntripleplay hashtag.
1. Instant replay: For it or against it, want more of it or less, where and why?
Jason Wojciechowski (@jlwoj), Beaneball I want a replay umpire watching a TV screen for potentially ...

Read full story
MLB on ESPN.com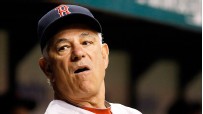 VALENTINE FIRED