Discussion
Baseball's 10 worst ballparks. Ever!
We have two words for these misbegotten stadia. Good. And riddance.
Originally Published:
June 20, 2012
By
Jim Caple
| ESPN.com
The late Dan Quisenberry once said of the Metrodome, "I don't think there are any good uses for nuclear weapons, but then, this may be one."
And he only pitched in 16 games there his entire career.
Torii Hunter, on the other hand, played 10 full seasons in the Metrodome, so maybe he had a better read on it. This is what he told me about his former home just before the Twins moved out: "If they need any kind of help blowing it up, I will definitely be there. I will ...

Read full story
MLB on ESPN.com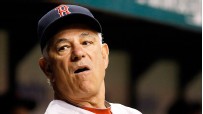 VALENTINE FIRED