Discussion
Best and worst baserunning teams
Teams playing themselves in and out of playoff race on basepaths
Updated:
July 14, 2012, 9:00 AM ET
By
Andrew Gibson
| Baseball Info Solutions
Earl Weaver, the former manager of the Baltimore Orioles, once recorded an expletive-filled prank radio segment with Orioles broadcaster Tom Marr, which has since found its way onto the Internet. In the tape, Weaver offers off-color thoughts on former O's closer Don Stanhouse, bench bat Terry Crowley and more. When asked why the Orioles "don't go out and get some more team speed," Weaver replied -- fundamentally -- that what the Orioles don't need is for players to be getting thrown out on the basepaths and taking potential runs off the board, and that the best way to get runners in is through home run power.
The segment was a joke, but you have to wonder what Weaver thinks of the 2012 Orioles. Heading into the All-Star break, Baltimore had hit 106 home runs, third-most in baseball, but a combination of a low on-base percentage (.302) and ranking as the worst baserunning team in baseball has left the O's as a mediocre offensive unit. When an Oriole reaches base, he has come around to score 25 percent of the time, which is 15 runs below the major league average.
To read the full article, become an ESPN Insider today.
Insider
MLB on ESPN.com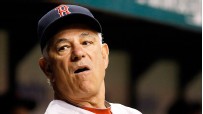 VALENTINE FIRED