Discussion
Harper no ROY sure thing
He's got the hype, but other NL rookies can rival Bryce Harper's production
Updated:
July 25, 2012, 11:39 AM ET
By
Chase Howell
| ESPN Insider
As we approach the dog days of summer, it's about the time of year when we can seriously start talking about MLB awards. Most of the big ones are still up for debate, but there seems to be an air of inevitability surrounding the rookie of the year awards, with people assuming Mike Trout will take home the trophy in the American League, and Bryce Harper in the NL.
There's no arguing with Trout, as he could probably stop playing today and still win the award, but Harper is another story, as his candidacy seems to be propped up by a whole lotta hype. So for a few minutes let's turn off the television, put down the newspaper, and let the statistics speak for themselves. Fact is, Harper has serious competition for NL Rookie of the Year, as a few under-the-radar standouts are making a strong case for the hardware.
For the full breakdown of why Harper is not the clear-cut ROY, become an Insider today.
Insider
MLB on ESPN.com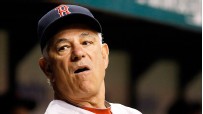 VALENTINE FIRED