Discussion
Buy, sell or stand pat?
Red Sox, Orioles and D-backs are in a tough spot as trade deadline nears
Updated:
July 27, 2012, 3:47 PM ET
ESPN.com
1. Red Sox: Buy, sell or stand pat?
Nick J. Faleris (@NickJFaleris ), Camden Depot: Buy. The offense is a non-issue, as the Red Sox are fifth in the AL in wOBA (.328) and are just now enjoying the return of Jacoby Ellsbury and the revitalization of Adrian Gonzalez. A strong season on the farm means Boston has the pieces for an arm; Theo Epstein in Chicago has wares to sell -- Ryan Dempster and Matt Garza -- and a familiarity with BoSox prospects.
Michael Baumann ...

Read full story
MLB on ESPN.com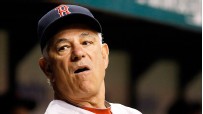 VALENTINE FIRED