Discussion
Contact sport: Outfielders and fans
For better or worse, it's hard for players to ignore the paying customers out there.
Kansas City Royals outfielder Jeff Francoeur may not warrant a place on your fantasy league team based on that .245 batting average and .669 OPS. But if the heartfelt testimonials he's received from the fans in Section 149 of the Coliseum in Oakland are any indication, he'd make a terrific next-door neighbor.
He might even spring for the refreshments at the block party.
Francoeur made some offbeat news in April when he treated A's fans to pizza, but that was just one step in ...

Read full story
MLB on ESPN.com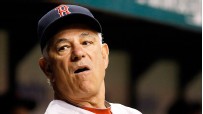 VALENTINE FIRED