Discussion
Impact of Melky suspension
Cabrera's 50-game absence a boon to Dodgers' odds in NL West race
Updated:
August 15, 2012, 4:31 PM ET
By
Dan Szymborski
| Baseball Think Factory
Last month, a rumor was passed around about a player testing positive for drug use and being suspended for 50 games. Unlike most rumors flying around the Twitterverse, this one made it to mass media, creating a minor firestorm and a handful of headaches. The player involved? Melky Cabrera.
This afternoon, another story hit the airwaves, this one better sourced than the one above. Melky Cabrera had tested positive for elevated levels of testosterone in his blood, triggering the 50-game suspension for a first-time violator of MLB's drug testing agreement with the players' association.
For a full breakdown of how Melky Cabrera's suspension affects the NL playoff race, become an Insider today.
Insider
MLB on ESPN.com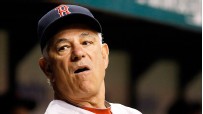 VALENTINE FIRED