Discussion
Sizing up the AL West
Examining the Bartolo Colon-less A's rotation, surging Mariners, falling Angels
Updated:
August 23, 2012, 12:41 PM ET
ESPN.com
1. What kind of impact does Bartolo Colon's 50-game suspension have on the AL West race?
Mark Saxon (@markasaxon), ESPN Los Angeles: Minimal. I don't think Oakland is good enough to catch Texas, anyway. It does, of course, have some impact on the wild-card race. But we're talking about Bartolo Colon. He was having a very good year, but it's not like he's Felix Hernandez or something.
Mark Simon (@msimonespn), ESPN Stats & Info: So long as A.J. Griffin comes back in two ...

Read full story
MLB on ESPN.com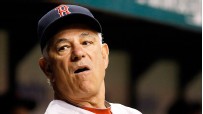 VALENTINE FIRED