Discussion
Rangers still vulnerable
Texas' unfavorable schedule could make the next 10 days very interesting
Updated:
September 24, 2012, 12:24 PM ET
By
Paul Swydan
| FanGraphs
The Texas Rangers and Oakland Athletics, ranked second and eighth this week in the ESPN Power Rankings, have not exactly had Septembers to remember, but if the season ended today, both would be in the playoffs. The ninth-ranked Los Angeles Angels, with a 14-7 record this month, have played a bit better, and are still within striking distance. Texas enters today with a 99.9 percent chance of reaching the postseason, but because their final 10 games will be played against Oakland and Los Angeles, they aren't quite done sweating.
While neither the A's nor the Rangers have played well this month, the A's have had a much more difficult schedule, as their past four series have come against the Angels, Baltimore Orioles, Detroit Tigers and New York Yankees -- all of whom are playoff contenders. They have won only two of their past seven contests, but endured some hard luck over the weekend, dropping two straight one-run, extra-inning games in New York. Their fifth series, which begins tonight in Texas, will be the most important. The two teams enter with the season series tied at six. The last time the two teams met in Arlington, the Rangers took three of four. Since then however, the A's have gone 48-24, eight games better than the Rangers.
For a full breakdown of why the Rangers are vulnerable, become an Insider today.
Insider
MLB on ESPN.com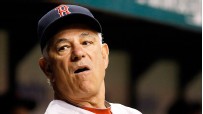 VALENTINE FIRED