Discussion
One-game playoff: Who starts?
For the Braves, it might be Kris Medlen. For other teams, it's not so clear.
John Smoltz always rose to the occasion during 21 seasons in the major leagues. He logged a career 15-4 postseason record with a 2.67 ERA for the Atlanta Braves, and never hesitated to speak his mind. So when he expresses an opinion on the best way to set up a playoff rotation, it's newsworthy.
Atlanta manager Fredi Gonzalez actually might be tempted to heed Smoltz's advice if not for a strange personality quirk: He likes being employed.
Smoltz, now a baseball analyst for TBS, ...

Read full story
MLB on ESPN.com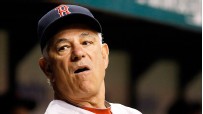 VALENTINE FIRED