Discussion
BBTN 500: Players No. 151-200
Originally Published:
March 23, 2013
ESPN.com
Who are the best players in Major League Baseball heading into the 2013 season? ESPN formed a panel of MLB writers, analysts and contributors to rank the top 500. The countdown from No. 500 to No. 1 begins March 20 and ends March 28 with a special edition of "Baseball Tonight" at 10 p.m. ET.
The results will be announced on ESPN.com, on Facebook and Twitter (@BBTN). Fans can use the hashtag #BBTN500 to join the discussion and follow along.
To compile the top ...

Read full story
TOP 500 MLB PLAYERS OF 2013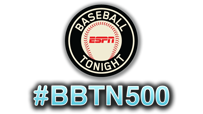 TEAM-BY-TEAM RANKINGS
Check out where players ranked on each team:
LOOKING BACK
ESPN 500: 2012
Albert Pujols left St. Louis for Anaheim and was voted the game's No. 1 player.