Discussion
Tim McClelland umps behind mound
Updated:
March 20, 2013, 12:05 AM ET
Associated Press
PHOENIX -- Something sounded very, very strange to Milwaukee Brewers starter Wily Peralta.
When he threw pitches to Josh Hamilton in the first inning, Peralta heard the umpire calling them -- from over his left shoulder.
In a throwback to Little League days, Tim McClelland did some plate umpiring from behind the mound Tuesday after another ump was injured in the Brewers' 6-1 win over the Los Angeles Angels.
"When he called 'ball' behind me, I just looked behind me," Peralta ...

Read full story
SPRING 2013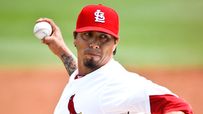 SPRING TRAINING
BBTN 500
WORLD BASEBALL CLASSIC
OTHER LINKS