Discussion
Rays can't make the Trout mistake
To win a tough division, Tampa Bay needs its best players
When the Tampa Bay Rays optioned stud prospect Wil Myers to minor league camp last week, it was understandably a disappointment to many fans who had hoped to see immediate returns from the offseason trade of longtime starter James Shields. The company line from the team was that Myers still needed to become a more well-rounded player. (Despite that, he still ranks at 291 on the BBTN 500.)
There's likely some truth to that, but as there is with nearly every Tampa Bay decision, there was a fiscal component as well. If the Rays delay his arrival for a few weeks, they can also push back his eventual free agency by a year; if they leave him on the farm until closer to the end of June, they can also ensure he won't qualify as a "Super Two" player and avoid the additional expensive year of arbitration that comes with that status.
Simply put, the Rays can call Myers up later in the year and extend their team control from six full years (2013 through 2018) to part of seven (mid-2013 through 2019). If Myers works out the way most expect he will, that means that his age-28 season in 2019 -- when he would likely be at the peak of his skills -- would be a year the Rays control, rather than being his first year of free agency. It stands to reason that a full year of age-28 peak Myers would provide more value than a year of age-22 rookie Myers, so it's not hard to see why the club would choose to go that route.
That said, the Rays must resist that urge, and we saw as recently as last year why it would be a mistake to keep Myers down.
To see why the Rays can't keep Wil Myers down on the farm, become an ESPN Insider today.
Insider
TOP 500 MLB PLAYERS OF 2013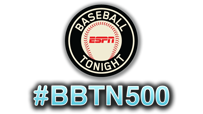 TEAM-BY-TEAM RANKINGS
Check out where players ranked on each team:
LOOKING BACK
ESPN 500: 2012
Albert Pujols left St. Louis for Anaheim and was voted the game's No. 1 player.