Discussion
Previewing the AL East
Originally Published:
March 28, 2013
By
ESPN.com and ESPN The Mag
Editor's note: ESPN.com has teamed with ESPN The Magazine and the SweetSpot Blog Network to produce this year's preview capsules.
Baseball has become so unpredictable that we needed to invent an entirely new way of guessing what will happen next. Below you'll find ESPN Insider Dan Szymborski's projections for the likely range of every team's wins, based on projections for every player on every roster.
Why Dan, why now? Because since he started doing this 10 years ago, ...

Read full story
2013 SEASON PREVIEW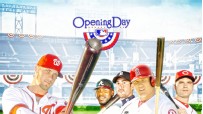 SCHEDULE
Monday, March 25

Bowden: Harper vs. Trout -- who's better?
Schilling: Sizing up Trout and Harper

Tuesday, March 26

Szymborski: Projecting AL standings
Rising Stars profiles: Tyler Skaggs (Crasnick); Jarrod Parker (Kahrl)

Wednesday, March 27

Division capsules: AL Central; NL Central
Szymborski: Projecting NL standings
BBTN: AL Central NL Central
Rising Stars profiles: Salvador Perez and Trevor Rosenthal (Crasnick)
Bowden: Six who impressed this spring

Thursday, March 28

Rising Stars profiles: Andrelton Simmons (Stark); Manny Machado (Kurkjian)
Spratt: Defense could hurt Blue Jays

Friday, March 29

Law: Predicting division winners, awards
Photo gallery: All-MLB preseason team
Szymborski: Best player prop bets

Saturday, March 30

Photo gallery: Milestones to watch in 2013
Bowden: 10 bold predictions for 2013