Discussion
BBTN 500: Nos. 201-300
A look at the most overrated and intriguing players, and the value of defense
Updated:
March 22, 2013, 12:33 PM ET
ESPN.com
Day 3 of the BBTN 500 consists of players ranked 201-300. We asked our experts to weigh in with their thoughts on the players in this group.
1. Anyone here we are overrating?
Eric Karabell (@karabellespn), ESPN Fantasy: Many players are being overrated, including way too many "closers" who aren't great pitchers, but the Mets' Johan Santana is years past being valuable, and unlikely to return to relevance with his shoulder woes. Younger, stronger, upside arms like ...

Read full story
TOP 500 MLB PLAYERS OF 2013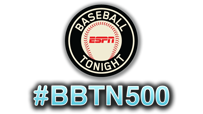 TEAM-BY-TEAM RANKINGS
Check out where players ranked on each team:
LOOKING BACK
ESPN 500: 2012
Albert Pujols left St. Louis for Anaheim and was voted the game's No. 1 player.