Discussion
What can't Andrelton Simmons do?
At only 23 years old, former pitcher is already redefining the shortstop position
Originally Published:
March 28, 2013
By
Jayson Stark
| ESPN.com
If the measure of a man's talent is how pumped-up people get when you bring up his name, then Braves shortstop Andrelton Simmons might not merely be bound for greatness. He might be bound for Cooperstown.
"I get excited just talking about the kid," said one longtime scout.
"He's incredible," said his first baseman, Freddie Freeman. "The balls he gets to. He's so quick. [When he throws to first], it's like the ball doesn't even go in his glove."
"Exceptional athlete," ...

Read full story
2013 SEASON PREVIEW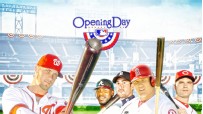 SCHEDULE
Monday, March 25

Bowden: Harper vs. Trout -- who's better?
Schilling: Sizing up Trout and Harper

Tuesday, March 26

Szymborski: Projecting AL standings
Rising Stars profiles: Tyler Skaggs (Crasnick); Jarrod Parker (Kahrl)

Wednesday, March 27

Division capsules: AL Central; NL Central
Szymborski: Projecting NL standings
BBTN: AL Central NL Central
Rising Stars profiles: Salvador Perez and Trevor Rosenthal (Crasnick)
Bowden: Six who impressed this spring

Thursday, March 28

Rising Stars profiles: Andrelton Simmons (Stark); Manny Machado (Kurkjian)
Spratt: Defense could hurt Blue Jays

Friday, March 29

Law: Predicting division winners, awards
Photo gallery: All-MLB preseason team
Szymborski: Best player prop bets

Saturday, March 30

Photo gallery: Milestones to watch in 2013
Bowden: 10 bold predictions for 2013