Discussion
Aroldis Chapman's new old role
He's back at closer, but does that change his overall value?
Originally Published:
March 26, 2013
ESPN.com
Day 7 of the BBTN 500 consists of players ranked 26-50. Aroldis Chapman comes in at No. 46, but this voting was done when everyone thought he was headed to the rotation. Our panelists are here to discuss how his return to the bullpen as the closer changes that assessment.
1. Should we adjust Chapman's ranking based on his return to the bullpen?
Eric Karabell (@karabellespn), ESPN Fantasy: In theory, yes, because it's difficult to objectively place any relief ...

Read full story
TOP 500 MLB PLAYERS OF 2013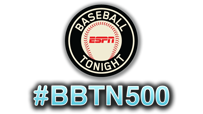 TEAM-BY-TEAM RANKINGS
Check out where players ranked on each team:
LOOKING BACK
ESPN 500: 2012
Albert Pujols left St. Louis for Anaheim and was voted the game's No. 1 player.