Discussion
The Next No. 1
A look at players ranked 11-25 with a chance to move to the top in 2014
Originally Published:
March 26, 2013
ESPN.com
Day 8 of the BBTN 500 consists of players ranked 25-11, which includes Albert Pujols, the player who was ranked No. 1 a year ago. Will his fall continue? Our panelists will tell you.
1. Who from No. 11-25 is most likely to be No. 1 next year?
David Schoenfield (@dschoenfield), SweetSpot: If Matt Kemp (No. 13) has another year like 2011, he's right up there, but I'm wondering if that was a career year. So I'm going with a guy who hasn't yet reached his limits: ...

Read full story
TOP 500 MLB PLAYERS OF 2013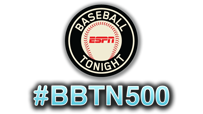 TEAM-BY-TEAM RANKINGS
Check out where players ranked on each team:
LOOKING BACK
ESPN 500: 2012
Albert Pujols left St. Louis for Anaheim and was voted the game's No. 1 player.