Discussion
BBTN 500: Case for No. 1
We asked the fans to tell us who should be No. 1 on the BBTN 500
Updated:
March 28, 2013, 6:33 PM ET
By
ESPN.com
We asked the fans to tell us who should be No. 1 on the BBTN 500. Feel free to chime in on Twitter using the #BBTN500 hashtag. Remember, we will unveil the top 10 tonight live on ESPN at 10 p.m., and we'll be hosting a live chat here at the same time.
Read full story
TOP 500 MLB PLAYERS OF 2013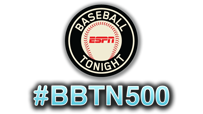 TEAM-BY-TEAM RANKINGS
Check out where players ranked on each team:
LOOKING BACK
ESPN 500: 2012
Albert Pujols left St. Louis for Anaheim and was voted the game's No. 1 player.